The recent changes in our community and country have forced many anime fans to notice a large number of production delays in the last couple of months. More anime has been delayed than not as of late, so yes, this is a big deal.
We'll start with Japan's containment measures first instituted on February 25, 2020. The government requested the suspension of all large-scale gatherings and the closing of all schools. Many Japanese companies are also allowing, encouraging, or requiring their workers to work from home. This minimizes person-to-person contact, which reduces the risk of transmission.
Some studios have had close calls with the virus itself. Twin Engine (Pet) announced that all their employees are required to work from home after one of their freelancers reported being in close contact with an infected person. Because of the close collaboration between the company's network of studios, this work-from-home order applies to Geno Studio, Revoroot, and Studio Colorido as well.
The productions that are hit the hardest are those relying on in-between animation and coloring from studios in China, where many offices had to stop work for weeks. The real risk comes from ripple effects. The anime industry is a tight web of studios that hire each other for additional production work on each other's shows. A sick artist or a project getting pushed back can throw studios' careful schedules and budgets entirely out of whack. Most studios also outsource work to the rest of the industry, meaning that issues with their contractors can delay delivery of in-betweens, backgrounds, or CG animation.
Movie premieres have gotten pushed back, live events and concerts have been cancelled, and social distancing measures are reducing traffic to theme cafes and otaku goods stores. Many companies rely heavily on event revenue, so this is potentially disastrous, especially as the pandemic wears on. To make matters worse, Anime Japan was postponed. That's a blow not just to fans, but to companies who were counting on marketing their new titles and holding essential business meetings at the convention.
Voice actors have been proactive by building their own in-home studios in extra bedrooms, closets, dens, basements, and garages.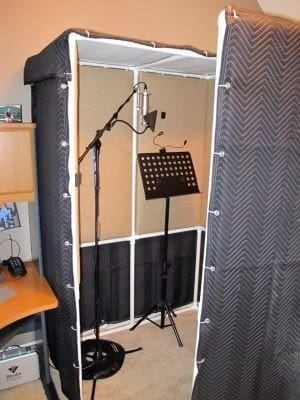 ATS Acoustic Panels backed by blankets and suspended from a PVC frame.