In the vibrant world of anime, voice actors play a crucial role in bringing characters to life and captivating audiences with their performances. One such talented individual is Bryce Papenbrook, a prominent voice actor renowned for his versatility, range, and ability to embody diverse characters. With a passion for storytelling and a unique vocal prowess, Papenbrook has carved a niche for himself in the anime industry. Let's dive into the multifaceted career of Bryce Papenbrook, exploring his notable roles, contributions to popular anime series, and the impact he has made on fans worldwide.
From the Beginning: The Path to Voice Acting Stardom
Papenbrook was born on February 24, 1986 in West Hills, California. His interest in voice acting began at a young age due to his exposure to the performing arts. Coming from a family of voice actors (his mother, Debbie Rothstein, and his father, Bob Papenbrook), he gained a strong appreciation for the craft. It was during one of his father's recording sessions for Power Rangers that Bryce had his first opportunity to try voice acting. His father encouraged him to lend his voice to a character, and Bryce was immediately hooked on the idea of bringing characters to life through his voice. This experience ignited his passion for acting and set him on the path to pursue a career in the entertainment industry.
Emerging on the Anime Scene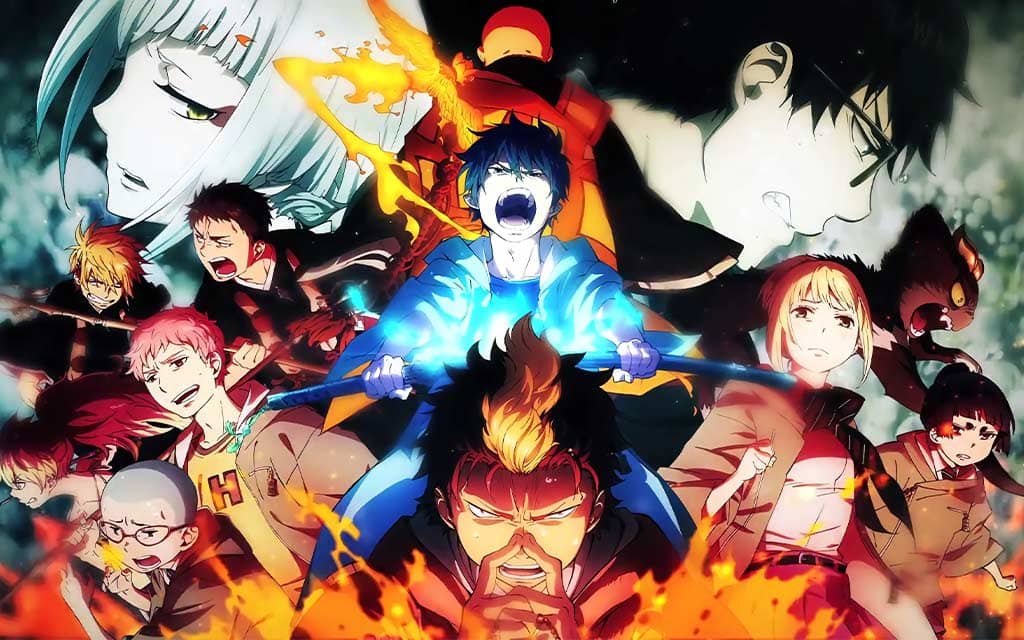 Bryce Papenbrook's talent and hard work eventually caught the attention of casting directors in the anime industry. His breakthrough came with his early roles in various anime series, where he demonstrated his ability to infuse depth and personality into his characters. With each project, he further refined his craft, gaining recognition for his versatility and nuanced performances.
One of Papenbrook's notable early roles was as Rin Okumura in Blue Exorcist. This complex character required Papenbrook to convey both vulnerability and determination as Rin navigated a world of demons and exorcists. His performance struck a chord with audiences, establishing him as a rising star in the voice-acting community.
Exploring Iconic Roles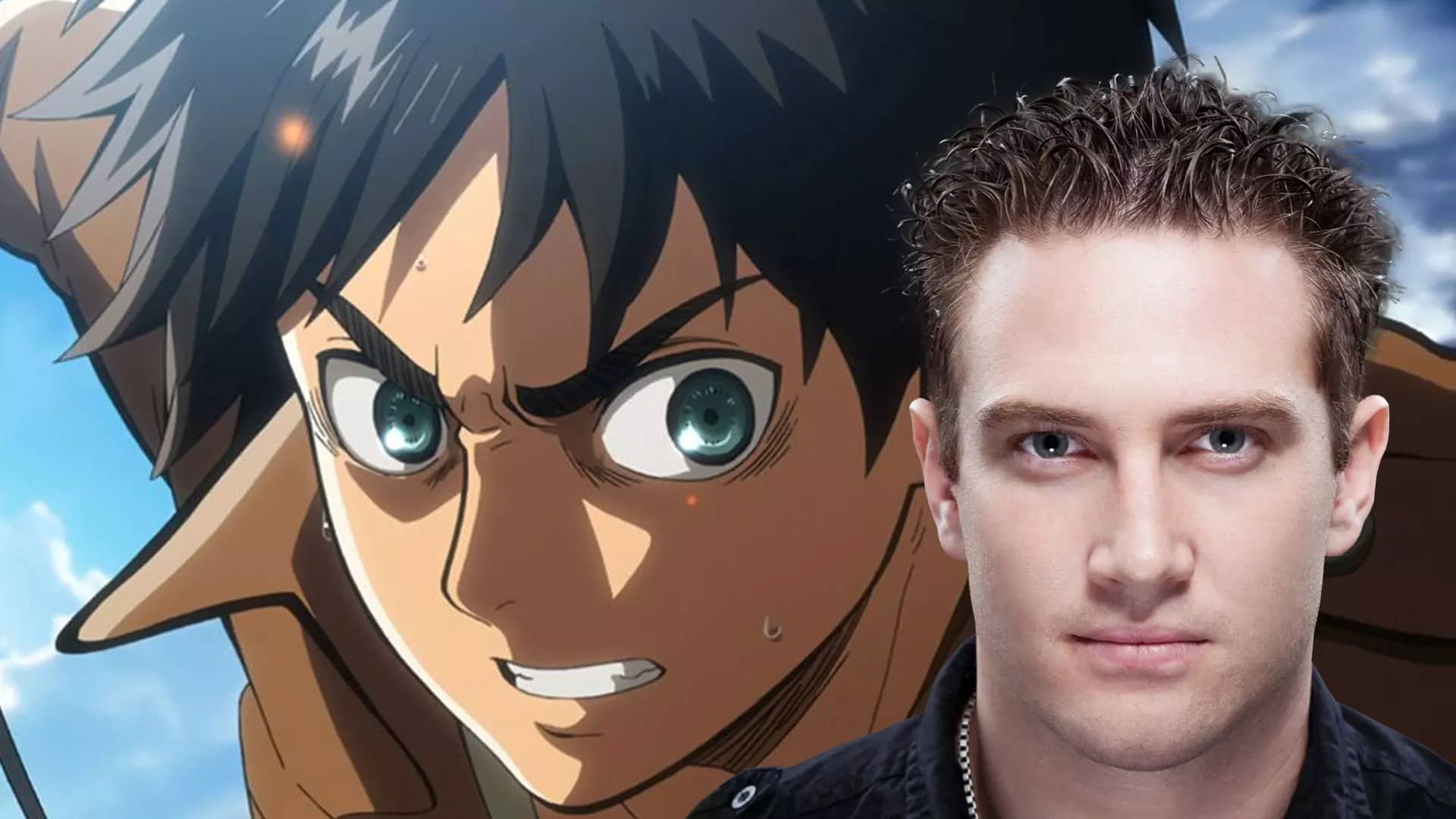 One of the defining aspects of Bryce Papenbrook's career is his versatility as a voice actor. He has demonstrated the ability to tackle a wide range of characters, each with their own distinct traits and personalities. From brave and determined heroes to quirky and unpredictable individuals, Papenbrook has proven his adaptability time and time again.
In the popular series Attack on Titan, Papenbrook voices the fiery and determined Eren Jaeger. He effectively conveys Eren's complex emotions and his relentless pursuit of freedom, adding depth and intensity to the character. This portrayal has become synonymous with Eren Jaeger and has contributed significantly to the show's success.
Another notable role in Papenbrook's repertoire is that of Meliodas in The Seven Deadly Sins anime series. Meliodas, the Seven Deadly Sins captain, exhibits many emotions and traits, from charm and playfulness to raw power and determination. Papenbrook captures the essence of Meliodas, providing a captivating performance that resonates with fans.
Furthermore, the voice actor lends his talents to Inosuke Hashibira in the English dubbed version of Demon Slayer: Kimetsu no Yaiba. Inosuke is a wild and boisterous character known for his fierce combat skills and distinctive pig-like mask. Papenbrook's portrayal brings out the untamed nature of Inosuke, creating a memorable and engaging performance.
Connecting with Fans: Conventions and Social Media Presence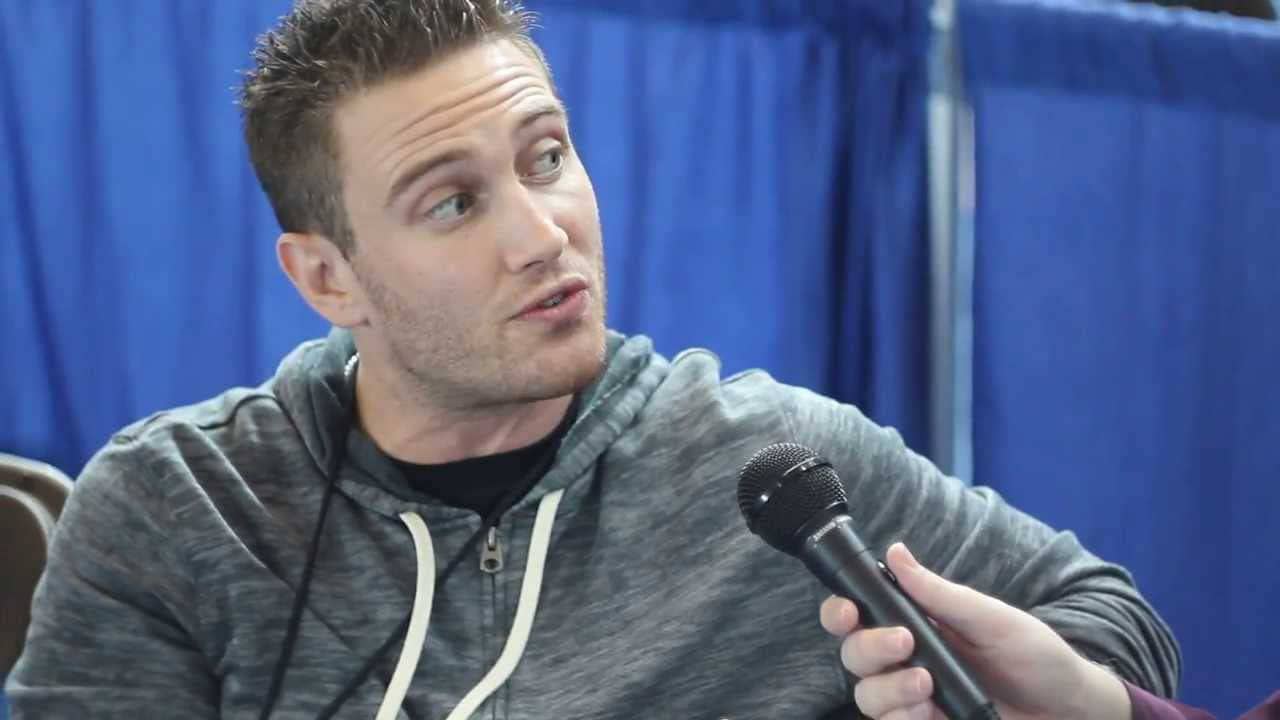 Bryce Papenbrook understands the importance of connecting with his fans and actively engages with them through conventions and social media platforms like Instagram and Twitter. He frequently attends comic conventions and panel discussions, where he interacts with fans, shares behind-the-scenes stories, and offers valuable insights into the voice-acting industry. These interactions not only allow fans to meet the voice behind their favorite characters but also provide aspiring voice actors with inspiration and guidance.
In addition to conventions, Papenbrook maintains a strong presence on social media, regularly updating his followers on his latest projects, sharing personal experiences, and expressing gratitude for the support he receives. Through platforms like Twitter and Instagram, he fosters a sense of community among anime enthusiasts and creates opportunities for fans to engage with him on a more personal level.
An Enduring Legacy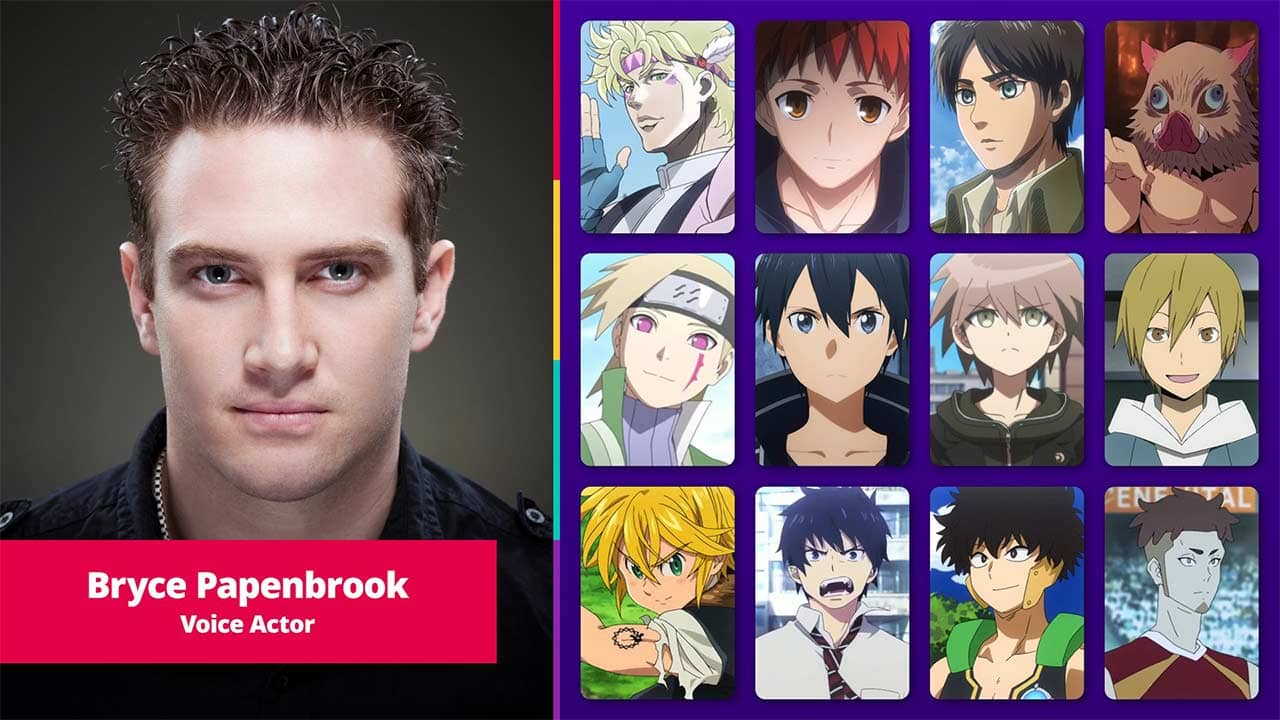 Bryce Papenbrook's contributions to the anime industry and remarkable talent have left an indelible impact. His ability to breathe life into characters and immerse audiences in their stories has made him a beloved figure in the world of anime voice acting. Through his dedication to his craft, engagement with fans, and influence on aspiring voice actors, he has left a lasting legacy reflecting his passion for storytelling and the art of voice acting.
FAQs About Bryce Papenbrook
Do Inosuke and Eren have the same voice actor?
Yes, Inosuke Hashibira from Demon Slayer: Kimetsu no Yaiba and Eren Jaeger from Attack on Titan are voiced by Bryce Papenbrook. 
Is Bryce Papenbrook in Naruto?
Yes. He has lent his voice to characters in the Naruto franchise. Notably, he voiced the character of Naka Uchiha and other supporting characters in Naruto Shippuden.
Who are the characters Bryce Papenbrook voices?
There are countless characters in various anime series and video games. Please take a look at some of the most notable examples below.
Date Of Birth:
Feb 24, 1986
Birth Place:
West Hills, California, USA [ezcol_1half]
Shows
Danganronpa 3: The End of Hope's Peak High School - Hope Arc (2016)
Makoto Naegi
Nagito Komaeda
Danganronpa 3: The End of Hope's Peak High School - Despair Arc (2016)
Nagito Komaeda
Makoto Naegi
Danganronpa 3: The End of Hope's Peak High School - Future Arc (2016)
Makoto Naegi
One Punch Man (2016)
Marugori
Mobile Suit Gundam: Iron-Blooded Orphans (2016)
Eugene Sevenstark
Ajin: Demi-Human (2016)
Kaito
Brothers Conflict (2016)
Wataru Asahina
Lord Marksman and Vanadis (2016)
Olivier
Prince of Stride: Alternative (2016)
Yuri Himemiya
Miraculous: Tales of Ladybug and Cat Noir (2015)
Adrien
Attack on Titan: Junior High (2015)
Eren Jaeger
Dangan Ronpa: The Animation (2015)
Makoto Naegi
The Seven Deadly Sins (2015)
Meliodas
Be Cool, Scooby-Doo! (2015)
Linecook
JoJo's Bizarre Adventure (2015)
Caesar Anthonio Zeppeli
Fate/stay night: Unlimited Blade Works (2015)
Shirou Emiya
Aldnoah.Zero (2015)
Calm Craftman
Soul Eater Not! (2015)
Clay Sizemore
A Lull in the Sea (2015)
Kaname Isaki
Sword Art Online II (2015)
Kirito / Kazuto Kirigaya
Durarara!! x2 (2015)
Masaomi Kida
Assassination Classroom (2015)
Rikuto Ikeda
Sword Art Online: Extra Edition (2014)
Kirito / Kazuto Kirigaya
Blood Lad (2014)
Staz Charlie Blood
Attack on Titan (2014)
Eren Jaeger
Space Dandy (2014)
Ukeleleman
Pokemon Origins (2013)
Red
Digimon Fusion (2013)
Bearmon
Coronmon
Tenkai Knights (2013)
Chooki Mason / Lydendor
B-Daman Crossfire (2013)
Basara Kurofuchi / Kurochi
B-Shot B
Sword Art Online (2013)
Kirito / Kazuto Kirigaya
Blue Exorcist OVA (2013)
Rin Okumura
Blue Exorcist (2012)
Rin Okumura
Nura: Rise of the Yokai Clan (2012)
Kappa
Ryota Neko
Ryota NekoBlade (Marvel Anime) (2012)
Edgar Frost
Kanokon OVA (2011)
Omi Kiriyama
Vampire Knight Guilty (2011)
Hanabusa Aido
Durarara!! (2011)
Masaomi Kida
Vampire Knight (2010)
Hanabusa Aido
Kekkaishi (2010)
Hiromu Tabata
Kanokon (2010)
Omi Kiriyama
Ah My Buddha Katsu (2009)
Ikko Satonaka
Ah My Buddha (2009)
Ikko Satonaka
Code Geass: Lelouch of the Rebellion R2 (2008)
Edgar N. Darlton
Buso Renkin (2008)
Shusui Hayasaka
MAR (2007)
Jack
Noein: To Your Other Shelf (2006)
Isami Fujiwara
.hack//Legend of the Twilight (2004)
Shugo
Great Teacher Onizuka (2003)
Kunio Murai
Trigun (2000)
Vash (Young) [/ezcol_1half] [ezcol_1half_end]
Movies
Naruto Shippuden the Movie 5: Blood Prison (2014)
Muku (Boy)
Khumba (2014)
Zebra 1
Blue Exorcist The Movie (2013)
Rin Okumura
First Squad - The Moment of Truth (2012)
Valya
Video Games
Bravely Second: End Layer (2016)
Tiz Arrior
Xenoblade Chronicles X (2015)
Avatar (Male)
Final Fantasy Type-0 (2015)
Machina Kunagiri
Persona Q: Shadow of the Labyrinth (2014)
Theodore
Pac-Man and the Ghostly Adventures 2 (2014)
Inky
Tenkai Knights: Brave Battle (2014)
Chooki Mason / Lydendor
Dangan Ronpa 2: Goodbye Despair (2014)
Nagito Komaeda
Mind Zero (2014)
Nobuhiko Watanabe
Mugen Souls Z (2014)
Kakeru
Conception II: Children of the Seven Stars (2014)
Mark
Dangan Ronpa: Trigger Happy Havoc(2014)
Makoto Naegi
Bravely Default (2014)
Tiz Arrior
Ys: Memories of Celceta (2013)
Adol Christin
Pac-Man and the Ghostly Adventures(2013)
Inky
Rune Factory 4 (2013)
Lest
Dynasty Warriors 8 (2013)
Guan Ping
Shin Megami Tensei IV (2013)
Issachar
Disney Princess Palace Pets (2013)
Sultan
Atelier Ayesha: The Alchemist of Dusk(2013)
Ernie Lyttelton
Fire Emblem: Awakening (2013)
Henry
Atelier Meruru: The Apprentice of Arland(2012)
Lias Falken
Tales of Graces (2012)
Asbel Lhant
Shin Megami Tensei: Persona 2 - Innocent Sin (2011)
Jun Kurosu
Dynasty Warriors 7 (2011)
Guan Ping
Dissidia 012 Final Fantasy (2011)
Zidane Tribal
Ar tonelico Qoga: Knell of Ar Ciel (2011)
Aoto
Gods Eater Burst (2011)
Federico Caruso
Trinity Universe (2010)
Lucius
Lunar: Silver Star Harmony (2010)
Ramus Pharmain
Dissidia Final Fantasy (2009)
Zidane Tribal
Star Ocean: First Departure (2008)
Dorne Murtough
Dynasty Warriors 6 (2008)
Guan Ping
Warriors Orochi (2007)
Guan Ping
Radiata Stories (2005)
Jack Russell
Dynasty Warriors 5 (2005)
Guan Ping
Shorts
Blue Exorcist
Rin Okumura
Fate/stay night: Unlimited Blade Works - Sunny Day
Shirou Emiya [/ezcol_1half_end]